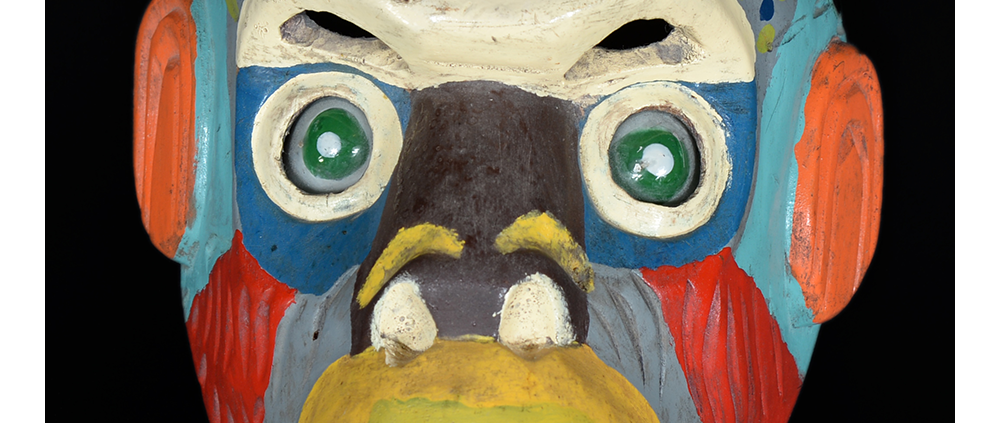 TITLE: Monkey Mask
TYPE: face mask
GENERAL REGION: Latin America
COUNTRY: Honduras
SUBREGION: Unknown
ETHNICITY: Mestizo
DESCRIPTION: Monkey (Mono) Mask
MAKER: Unknown
CEREMONY: Unknown, probably Carnival
AGE: ca. 1980s
MAIN MATERIAL: wood
OTHER MATERIALS: painted glass eyes; adhesive; oil-based paint
Honduras has a diverse population composed primarily of persons of mixed ancestry (mestizos), but also distinct ethnic groups such as creoles, the Garifuna people, and various indigenous nations. Very little is known about masquerade in Honduras except for among the Garifuna people, who mostly use wire-mesh masks in their dances. This monkey mask bears some resemblance to similar masks from Guatemala, which suggests it might originate in western Honduras, part of which formerly belonged to the Mayan empire that ruled over Guatemala. It was likely made for use in Carnival.
:
https://www.maskmuseum.org/wp-content/uploads/Latin-America-Honduras-Monkey-1a.png
1000
1000
Curator
https://www.maskmuseum.org/wp-content/uploads/sf-website-logo.svg
Curator
2020-08-13 15:00:08
2020-08-13 15:19:52
Monkey Mask