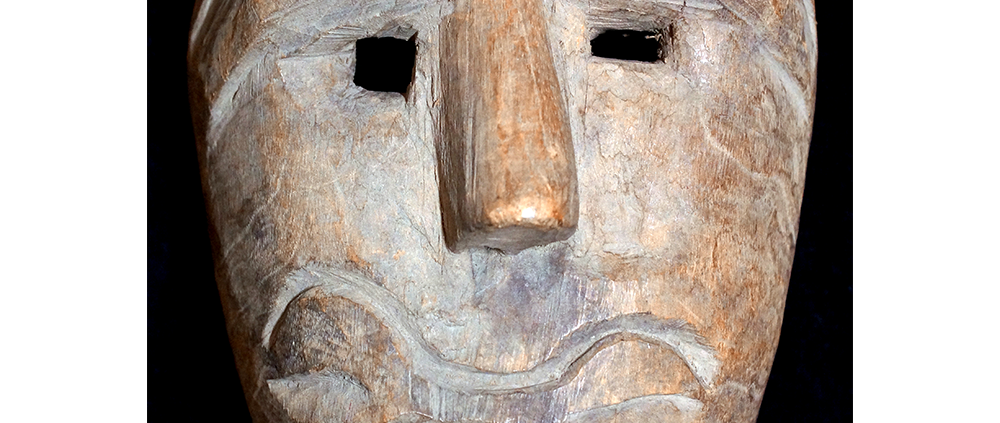 TITLE: Gracejo (?) Mask
TYPE: face mask
GENERAL REGION: Latin America
COUNTRY: Guatemala
SUBREGION: Mazatenango
ETHNICITY: Mayan (Q'eqchi')
DESCRIPTION: Unknown mask, probably a gracejo (mox)
MAKER: Unknown
CEREMONY: Baile del Patzcar
AGE: Unknown
MAIN MATERIAL: hardwood
OTHER MATERIALS: N/A
This mysterious mask is unfinished and most probably a gracejo (joker) or mox (fool) from southern Guatemala. Such masks are used in the Baile del Patzcar (Boss's Dance). The Baile del Patzcar (Plantation Boss's Dance) is the oldest Guatemalan dance still practiced today and evolved from a Mayan purification ritual.  In it, a dancer representing a female known as Lola performs a Mayan ritual using a white handkerchief to heal other masqueraders wearing rags and disease masks with gigantic thyroid goiters. Then gracejos representing ranch hands and carrying whips dance, comically whipping each other in mock fight over the love of the boss's wife (Patzcarina).
This mask seems to have been abandoned before the carver had finished, possibly due to the extreme heaviness of the wood, which makes it impractical to wear during the dance.
For more on Guatemalan masks, see Jim Pieper, Guatemala's Masks and Drama (University of New Mexico Press, 2006).
:
https://www.maskmuseum.org/wp-content/uploads/Latin-America-Guatemala-Gracejo-1a.png
1000
1000
Curator
https://www.maskmuseum.org/wp-content/uploads/sf-website-logo.svg
Curator
2018-06-22 09:25:30
2018-06-22 10:07:06
Gracejo (?) Mask