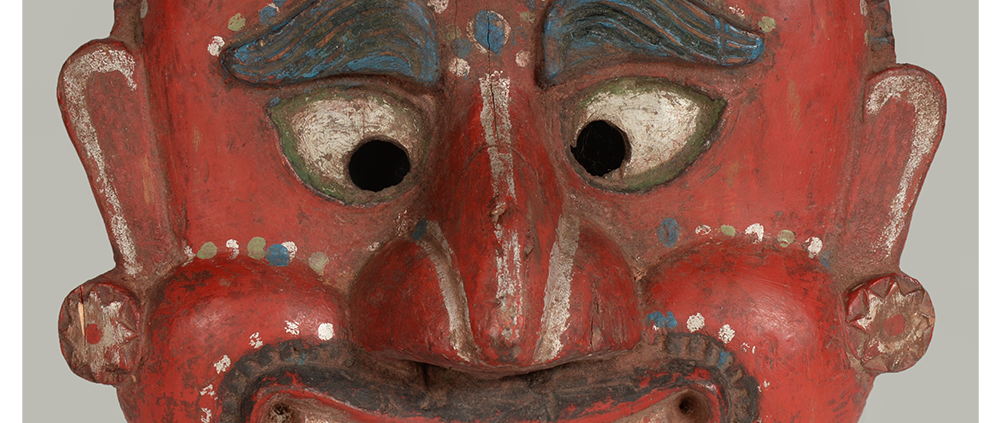 TITLE: Newar Lakhe Mask
TYPE: face mask
GENERAL REGION: Asia
COUNTRY: Nepal
SUBREGION: Kathmandu Valley
ETHNICITY: Newar
DESCRIPTION: Lakhe Mask
CATALOG #: ASNP006
MAKER: Unknown
CEREMONY: Nava Durga
AGE: 1950s
MAIN MATERIAL: wood
OTHER MATERIALS: mirror; adhesive; paint; cotton cloth; cotton batting; vegetable fiber; hardware
The Newar people of the Kathmandu Valley have a syncretic Hindu-Buddhist religious tradition.  They practice several kinds of masked dance for both sacred and dramatic purposes. Sacred masked dance such as Nava Durga illustrate the nine forms that the goddess Durga takes to fight demons (asura). Dancers belong to a secret society. Nava Durga masks are considered to be alive and are empowered with supernatural forces. Tantric Hindu priests renew the power of the masks each year by performing certain rituals and reciting secret mantras. As soon as the dancer puts their mask on over his face, he becomes possessed by the divinity the dancer represent. The various gods and animals and protect and purify the village.
:
https://www.maskmuseum.org/wp-content/uploads/Asia-Nepal-Newari-Lakhe-02a.png
1000
1000
Curator
https://www.maskmuseum.org/wp-content/uploads/sf-website-logo.svg
Curator
2023-02-08 13:27:40
2023-11-12 08:24:54
Newar Lakhe Mask