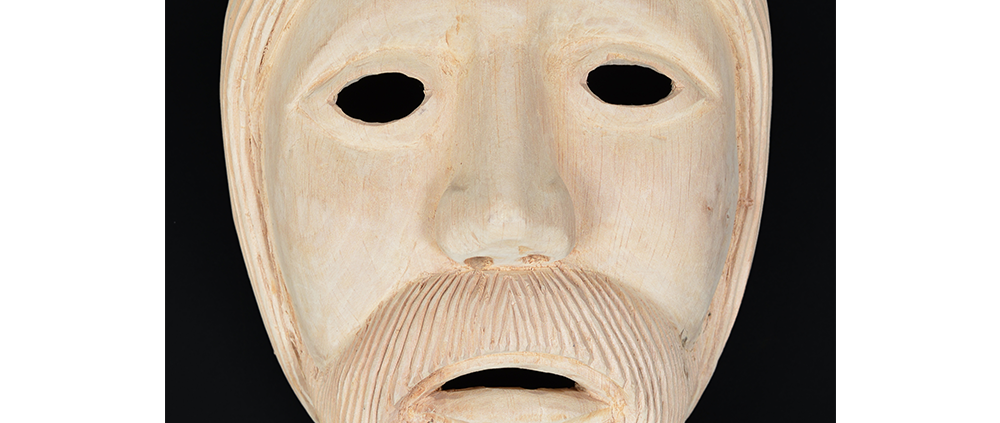 TITLE: Careto
TYPE: face mask
GENERAL REGION: Europe
COUNTRY: Portugal
SUBREGION: Lamego
ETHNICITY: Iberian
DESCRIPTION: Careto of Jesus of Nazareth
CATALOG ID: EUPT006
MAKER: Albino Neves (Lazarím)
CEREMONY: Entrudo (Carnival)
AGE: 2015
MAIN MATERIAL: alder wood
OTHER MATERIALS: elastic straps
The residents of the small town of Lazarím, Portugal, claim that their Carnival is the most authentic in Portugal and dates back to the Celtic invasions from central Europe in the first millennium BCE. The participants begin with a walk from Lamego to Lazarím or a town parade, dressed in costumes and masks made of natural materials such as burlap, wicker, pine boughs, or dried grass. The masks are usually hand-carved of wood and uncolored. They most commonly represent devils, but they may also represent animals, kings, or (in this case) Jesus of Nazareth himself. The parade is accompanied by a band of drums and percussion instruments.
After the parade, a young man and woman designated to carry paper maché effigies of a compadre and comadre assemble the village in the square and read out a list of the embarrassing acts of the villagers during the preceding year, to the amusement of all. The shamed individuals are then redeemed by the symbolic burning of the effigies. The villagers then share a feast of bean and meat stew cooking in a large cauldron in the square.  Masqueraders frequently play pranks throughout Fat Sunday and Fat Tuesday.
:
https://www.maskmuseum.org/wp-content/uploads/Europe-Portugal-Lazarim-Careto-1a.png
1000
1000
Curator
https://www.maskmuseum.org/wp-content/uploads/sf-website-logo.svg
Curator
2018-02-24 08:58:18
2023-11-12 08:24:18
Careto