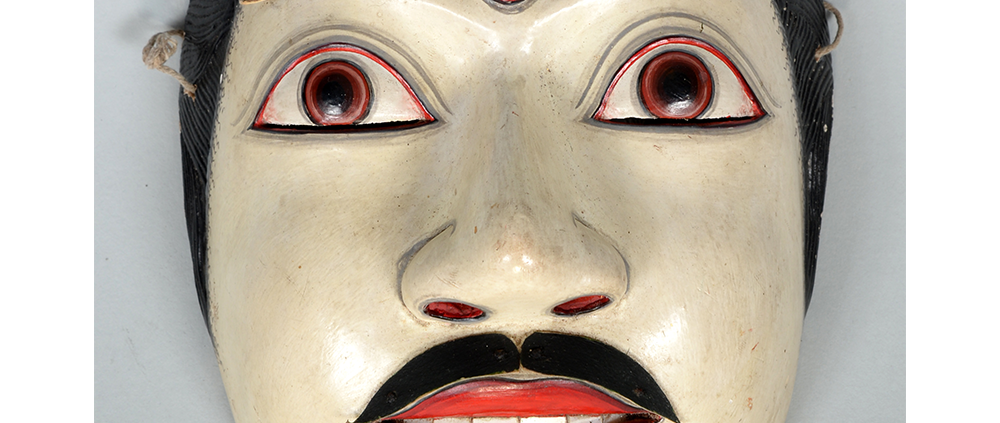 TITLE: Wayang Wong Laksmana
TYPE: face mask
GENERAL REGION: Asia
COUNTRY: Indonesia
SUBREGION: Bali
ETHNICITY: Balinese
DESCRIPTION: Laksmana Mask
CATALOG ID: ASID009
MAKER: Jero Manku Pande Made Rahaejeng (Banjar Pujung Kaja Desa Talipud, 1976- )
CEREMONY: Wayang Wong
AGE: 1990
MAIN MATERIAL: pule wood
OTHER MATERIALS: paint; goat leather and hair; mother of pearl
The Wayang Wong dance drama retells parts of the Hindu epics, the Ramayana and the Mahabharata. These epics revolve around the god Rama and his battle with the demon king Ravana, who has abducted Rama's wife, Sita. In the end, Rama retrieves her with the help of the wily monkey god, Hanuman.  This mask represents Laksmana, the noble brother of Rama and a close ally in his war on Ravana. It was made by the Hindu priest Made Rahaejeng and used for many years in the village of Banjar Pujung.
For more on Balinese masks, see Judy Slattum, Masks of Bali: Spirits of an Ancient Drama (San Francisco: Chronicle Books, 1992).
Click above to watch a short documentary film about Wayang Wong performance in Bali, Indonesia.
:
https://www.maskmuseum.org/wp-content/uploads/Asia-Indonesia-Bali-Laksmana-2a.png
1000
1000
Curator
https://www.maskmuseum.org/wp-content/uploads/sf-website-logo.svg
Curator
2018-06-22 08:49:15
2023-11-12 08:24:21
Wayang Wong Laksmana