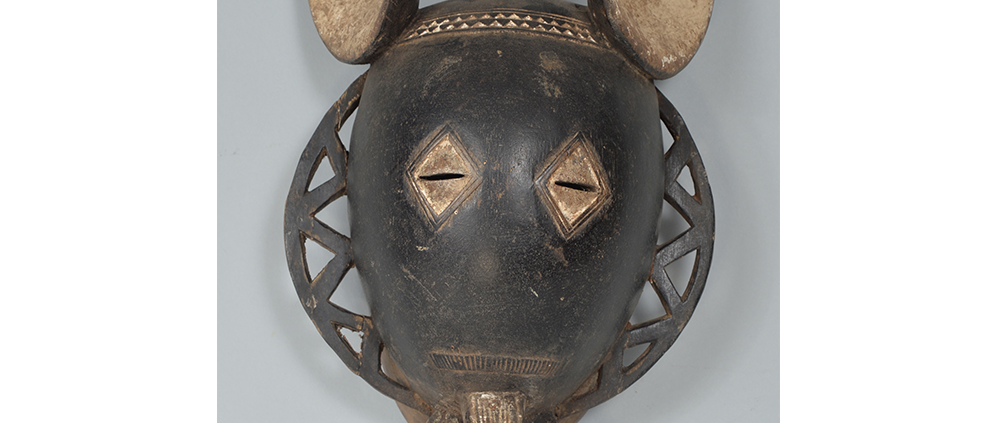 TITLE: Baule Klolo Mask
TYPE: face mask
GENERAL REGION: Africa
COUNTRY: Côte d'Ivoire (Ivory Coast)
ETHNICITY: Baule
DESCRIPTION: Klolo (Elephant) Mask
CATALOG ID: AFCI014
MAKER: Unknown
CEREMONY: Purification; Spirit Invocation
AGE: ca. 1970s-1980s
MAIN MATERIAL: wood
OTHER MATERIALS: kaolin clay
Before major festivals, the Baule people sometimes dance masks representing potent animal spirits to purify the village. This mask represents the revered elephant and is known as klolo, or sometimes lébé.  The abstraction of this specific elephant mask is striking and greater than usual among its type.  It is likely that this mask is used in much the same way as the zi mask of the southern (Dje) Guro people, to which the klolo bears a strong resemblance. The zi mask represents a powerful spirit tamed by the village that is used to purify the village of harmful spirits, especially witchcraft.
:
https://www.maskmuseum.org/wp-content/uploads/Africa-Cote-dIvoire-Baule-Lebe-1a.png
1000
1000
Curator
https://www.maskmuseum.org/wp-content/uploads/sf-website-logo.svg
Curator
2017-08-24 07:39:57
2023-12-05 18:00:42
Baule Klolo Mask